Foreign Ministry Spokesperson Wang Wenbin's Regular Press Conference on August 25, 2023
外交部-新闻司
2023-08-25 21:24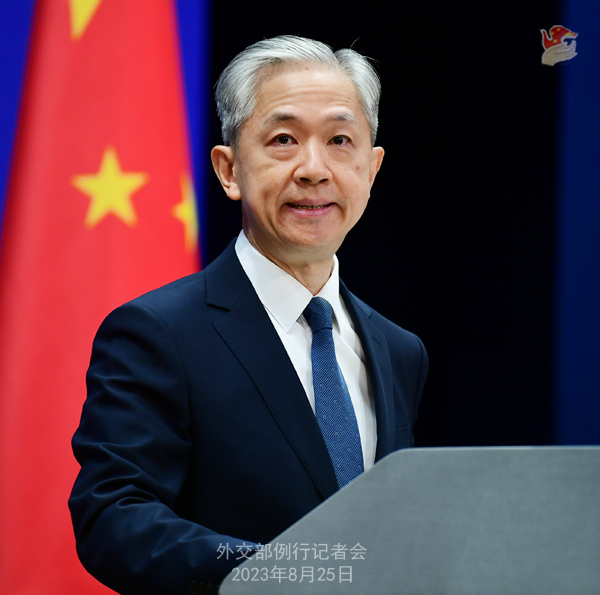 The New York Times: Commerce Secretary Raimondo will be coming here on Sunday. She will be the fourth senior American official to come here in the last several months. We haven't seen any Chinese senior officials going to the US. Is there a plan for China to reciprocate by sending a senior Chinese official to the US in the next couple of months?
Wang Wenbin: China and the US are in touch about bilateral engagement and exchange. I have nothing to share.

CCTV: The China-Africa Leaders' Dialogue was held yesterday in Johannesburg, South Africa. What's the considerations of holding this meeting? What has been achieved through the dialogue?

Wang Wenbin: Strengthening solidarity and cooperation with African countries will always be an important cornerstone of China's foreign policies. President Xi Jinping and South African President Matamela Cyril Ramaphosa yesterday co-chaired the China-Africa Leaders' Dialogue in Johannesburg. African leaders attending the meeting include Comorian President Azali Assoumani who is currently the Chairperson of the African Union (AU), Senegalese President Macky Sall who is also the African Co-chair of the Forum on China-Africa Cooperation (FOCAC), presidents of Zambia, Burundi, Djibouti, the Republic of the Congo and Namibia, and leaders of Chad, Libya and Nigeria representing sub-regional organizations, and the representative of the AU Commission. The dialogue is the first in-person engagement between leaders of China and African countries since the pandemic and of unique importance to deepening China-Africa relations and building the China-Africa community with a shared future in the new era.

President Xi Jinping delivered a keynote speech entitled "Joining Hands to Advance Modernization and Create a Great Future for China and Africa". President Xi Jinping pointed out that in 2013, he was there in Africa for his first foreign visit after becoming Chinese President and announced the principle of sincerity, real results, amity and good faith for China's Africa policy. Over the past 10 years, China has stayed committed to this principle. Together with the African friends, China has taken China-Africa relations to a new height and entered the new stage of jointly building a high-level China-Africa community with a shared future. China and Africa must work together to create a sound environment to promote a just and equitable international order, safeguard a peaceful and secure global environment, build an open and inclusive world economy, overcome estrangement between civilizations through exchanges and realize countries' respective development visions.

President Xi Jinping emphasized that on the path to modernization, China has all along been a firm supporter, and walking side by side with Africa. Looking ahead, China will work with Africa to enhance the synergy of their development strategies and continue to support Africa in continuously elevating its international standing. President Xi Jinping made the three proposals on enhancing China-Africa practical cooperation in the next stage and assisting in Africa's integration and modernization. First, China will launch the Initiative on Supporting Africa's Industrialization. China will better harness its resources for cooperation with Africa and the initiative of businesses to support Africa in growing its manufacturing sector and realizing industrialization and economic diversification. Second, China will launch the Plan for China Supporting Africa's Agricultural Modernization. China will help Africa expand grain plantation, encourage Chinese companies to increase agricultural investment in Africa, and enhance cooperation with Africa on seed and other areas of agro-technology, to support Africa in transforming and upgrading its agricultural sector. Third, China will launch the Plan for China-Africa Cooperation on Talent Development. China plans to train 500 principals and high-caliber teachers of vocational colleges every year, and train 10,000 technical personnel with both Chinese language and vocational skills for Africa through training programs. China will invite 20,000 government officials and technicians of African countries to participate in workshops and seminars.

President Xi Jinping highlighted that next year, China and Africa will host the FOCAC meeting in China, where the two sides may come together again and draw up new plans for development.

The African leaders thanked China for supporting African integration and assisting African countries in times of need and pointed out that China is Africa's indispensable cooperation partner in its quest for modernization. The African side highly commended and welcomed the three proposals put forth by President Xi Jinping, expressed full support for the Belt and Road Initiative, the Global Development Initiative, the Global Security Initiative and the Global Civilization Initiative put forth by President Xi Jinping, and expressed readiness to work with China to continue advancing FOCAC's institutional development. The African side is firmly committed to the one-China policy. Africa and China will firmly support each other in upholding their sovereignty, security and development interests, strengthen collaboration in international affairs and on multilateral occasions, raise the representation and voice of developing countries, and uphold the common interests of the developing world.

The meeting adopted and issued the Joint Statement of the China-Africa Leaders' Dialogue. The Chinese side released the Initiative on Supporting Africa's Industrialization, the Plan for China Supporting Africa's Agricultural Modernization, and the Plan for China-Africa Cooperation on Talent Development.

The China-Africa Leaders' Dialogue drew a new blueprint for China-Africa solidarity and cooperation and injected new impetus for the growth of the China-Africa comprehensive strategic and cooperative partnership. We are confident that China and Africa will carry forward our traditional friendship, enhance solidarity and coordination, join hands to advance modernization, create a better future for the Chinese and African people, set a fine example for building a community with a shared future for mankind and inject more positive energy for world peace and development.

Reuters: The Wall Street Journal reported today that state-owned company China National Nuclear Corporation has bid to build a nuclear power plant in Saudi Arabia. Can the foreign ministry confirm this or provide any comment?

Wang Wenbin: China and Saudi Arabia are comprehensive strategic partners. Our mutually beneficial and friendly win-win cooperation has brought tangible benefits to the two peoples. China will continue to engage in mutually beneficial cooperation with Saudi Arabia in various fields, including civil nuclear energy, while strictly abiding by international non-proliferation obligations. As for the specific project you mentioned, I would refer you to the competent authorities.

TV Asahi: The Tokyo Electric Power Company (TEPCO) just released the test result of the water in the ocean after the discharge of the ALPS-treated water, saying that the concentration of tritium is below its limit of detection. What's your view on this test result?

Wang Wenbin: We have said repeatedly that the Japanese government is acting against strong international opposition and against the rights of people in Japan and elsewhere to health, development and a healthy environment by forcibly starting the ocean discharge of the Fukushima nuclear-contaminated water and putting the world at the risk of nuclear contamination. This is extremely selfish and irresponsible. Japan has yet to prove the legitimacy and legality of its ocean discharge decision, the long-term reliability of the purification facility, and the authenticity and accuracy of the nuclear-contaminated water data. It has yet to deliver on its commitment to the IAEA and the international community, and establish an international long-term monitoring and on-site supervision arrangement led by the IAEA and with full participation of state stakeholders. We urge Japan to change course, immediately correct its wrongdoing and dispose of the nuclear-contaminated water in a truly responsible way.

CCTV: On August 24, President Xi Jinping attended the BRICS-Africa Outreach and BRICS Plus Dialogue and delivered important remarks. Could you shar