A New Batch of Medical Supplies Donated by the Chinese Government Handed Over to Sierra Leone
2020-11-24 19:03
On November 24, 2020, the Chinese Embassy in Sierra Leone held the hand-over ceremony of a new batch of medical supplies donated by the government of the People's Republic of China to the government of the Republic of Sierra Leone. This donation includes 20,016 testing kits, 4,000 KN95 respirators, 50,000 surgical masks, 1,000 PPEs, 2,000 disposable isolation gowns, 1,000 medical shoe covers, 100 forehead thermometer guns, 35 ventilators, 35 oxygenerators and related accessories, which are meant to further prop up Sierra Leone's fight against the COVID-19 pandemic.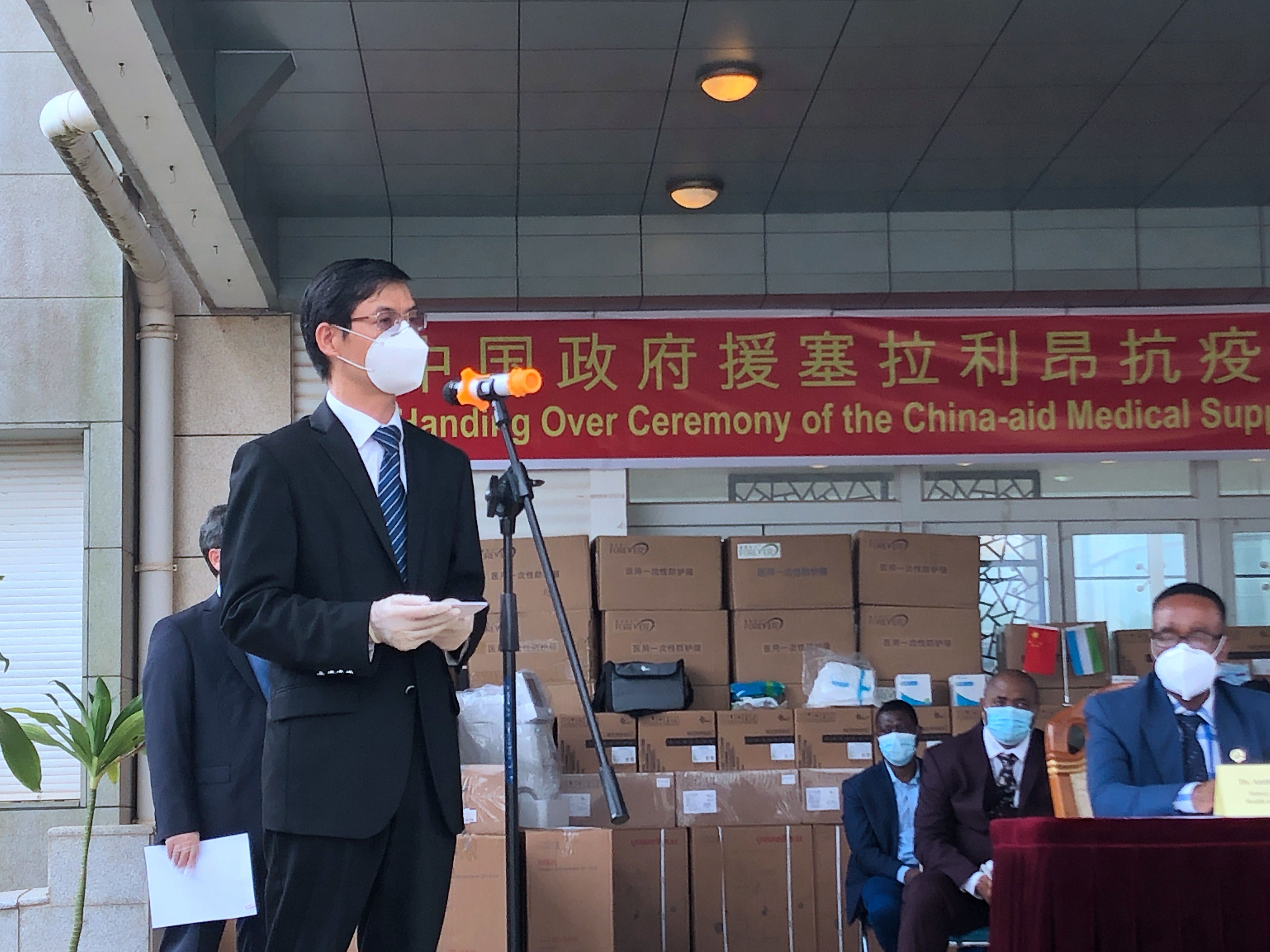 The ceremony was graced by H.E. the Chinese Ambassador to Sierra Leone Mr. Hu Zhangliang, Hon. Minister of Defence and National Coordinator for COVID-19 Response Brig. (Rtd.) Kellie Conteh, Hon. Deputy Minister of Health and Sanitation Dr. Anthony Sandi, Hon. Deputy Minister of Defence Col (Rtd) Muana Brima Massaquoi, Chief of Defence Staff Major General Sullay Sesay, the representative from the Ministry of Foreign Affairs and International Cooperation as well as newsmen and newswomen from the fourth estate.
Ambassador Hu commended the achievements in terms of socioeconomic development and anti-pandemic efforts made by the Sierra Leonean government and people under the staunch leadership of H.E. President Julius Maada Bio. He pointed out that this donation is one of the concrete actions in implementing relevant commitments made by H.E. President Xi Jinping at the Virtual Opening of the 73rd World Health Assembly and the Extraordinary China-Africa Summit on Solidarity Against COVID-19. He furthered that he believed that the new batch of donation would help consolidate what Sierra Leone has achieved in the fight against COVID-19.
Ambassador Hu noted that the just concluded 5th Plenary Session of the 19th CPC Central Committee, which drew the proposed blueprint for China's development over the next 5 to 15 years, would not only improve China's own development, but also inject new momentum into world economic growth and bring more development opportunities to other countries. He said that going forward, China would continue to work closely with African countries including Sierra Leone, to uphold the spirit of solidarity and cooperation, stay committed to the path of multilateralism, jointly safeguard the UN-centered international system and push forward the building of a community with a shared future for mankind.
Hon. Minister Conteh and Hon. Deputy Minister Sandi thanked China for its longstanding support on behalf of the Sierra Leonean government. Minister Conteh said that China's assistance reinforced Sierra Leone's confidence and capability in the fight against COVID-19. He emphasized that Sierra Leone stands ready to work with China and the international community to strengthen solidarity and cooperation and enhance the role of the WHO to fight against COVID-19, and uphold multilateralism on the way forward.
After the speeches, Ambassador Hu, Minister Conteh and the other dignitaries inspected the aforementioned medical supplies.