The Chinese Government Successfully Held theDelivery Ceremony for An Emergency Food Aid Project to Sierra Leone
2023-03-11 22:30
On March 9, 2023, the delivery ceremony of China's emergency food aid project to Sierra Leone was successfully held online and offline. Tang Wenhong, Vice-Chairman of the China International Development Cooperation Agency, Wang Qing, Chinese Ambassador to Sierra Leone, and Theresa Dick, Deputy Minister of Agriculture and Food Security of Sierra Leone, attended and delivered speeches. Relevant officials from the Ministry of Foreign Affairs, the Ministry of Commerce, the China International Development Cooperation Agency, the Chinese Embassy in Sierra Leone, and the Ministry of Agriculture and Food Security of Sierra Leone attended.
Vice-Chairman Tang Wenhong said that food security is an important issue of national governance and a core concern of the United Nations 2030 Agenda for Sustainable Development. In September 2021, President Xi Jinping proposed a global development initiative at the UN General Assembly, and listed food security as one of the eight key areas of cooperation, providing a Chinese solution to the current world food problem. In November of the same year, President Xi Jinping announced at the Eighth Ministerial Conference of the Forum on China-Africa Cooperation the "nine projects" including poverty alleviation and benefiting farmers. At present, all the emergency food aid to Africa announced by the Chinese government has been shipped, and they have arrived in Guinea-Bissau, Sierra Leone and other countries in batches. Tang Wenhong also said that the international development cooperation between China and Africa in the field of agriculture is not only to provide emergency food aid to Africa; but also help African agriculture achieve sustainable development through aid in the construction of agricultural demonstration centers, technical cooperation, and human resource training.

Ambassador Wang Qing said that in recent years, multiple factors such as the new crown epidemic, the crisis in Ukraine, and climate change have superimposed, and the world's food security is facing severe challenges, and Sierra Leone has also been affected. At the request of the Sierra Leone government and people, the Chinese government provided a batch of emergency humanitarian rice aid to Sierra Leone, which fully demonstrated the friendship between China and Sierra Leone to work together to overcome difficulties. As a developing country, China strives to contribute to the realization of global food security while actively solving its own food problems. The Chinese side has noticed that Sierra Leone's "New Direction Strategy" puts the realization of food security as a priority, and is willing to cooperate with Sierra Leone on accelerating the progress of agricultural science and technology, improving agricultural infrastructure, etc., to help Sierra Leone improve the level of food security, and to continuously inject new energy into the friendly cooperation between China and Sierra Leone.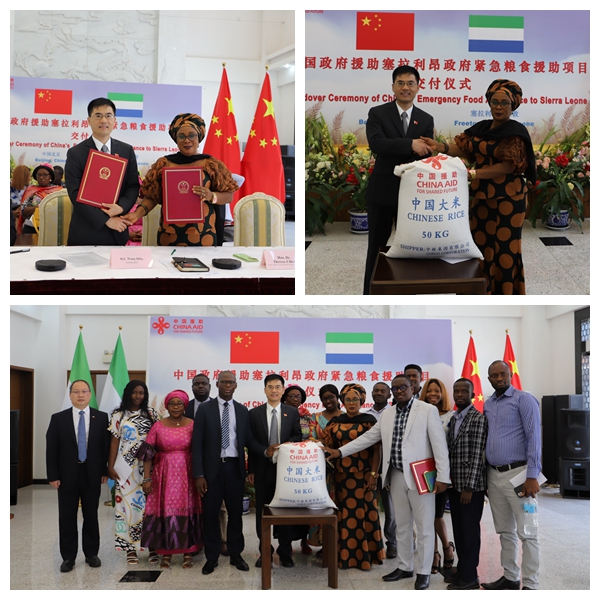 Mrs. Dick first conveyed President Bio of Sierra Leone's thanks for China's food aid, and said that the friendship between China and Sierra Leone has a long history, and the Chinese government has always supported Sierra Leone when Sierra Leone needed help. The food aid is another milestone in the history of bilateral relations. In addition to providing rice, the Chinese government also provided machinery and equipment to strengthen rice production, trained professionals in the agricultural field for Sierra Leone, and supported Sierra Leone to solve food security problems. On behalf of the government of Sierra Leone, I would like to express my most sincere thanks to the Chinese side and promise that the food aid will be distributed to the Sierra Leonean people in need as soon as possible.